Hair Transplants in Mexico
TJ Hair Clinic is the only mexican hair transplant clinic to be BBB certified in Mexico, specializing in FUE hair transplant medical hair restoration technique at affordable low prices without sacrificing quality. We have US certified doctors and surgical nurses that have mastered FUE hair transplant in Mexico to enable us to offer our patients the most affordable prices and cost-effective hair regrowth solutions from around the world. Our center is a certified medical hair restoration facility.
Get the best hair transplant techniques and the best hair regrowth solutions at the lowest prices from around the world.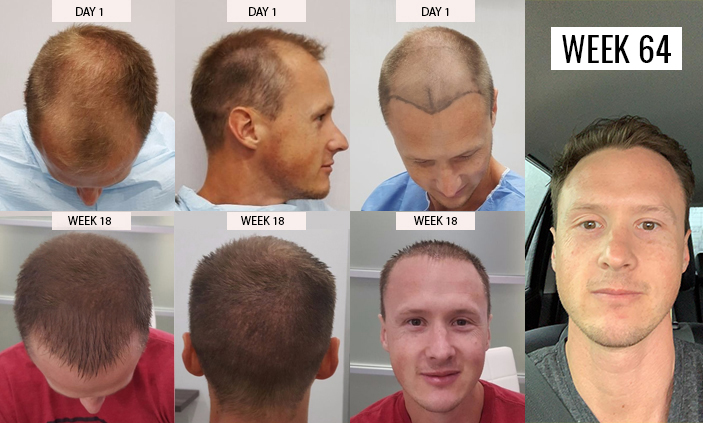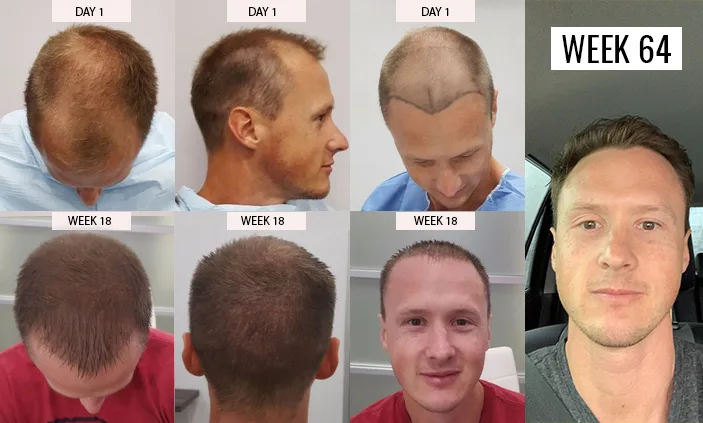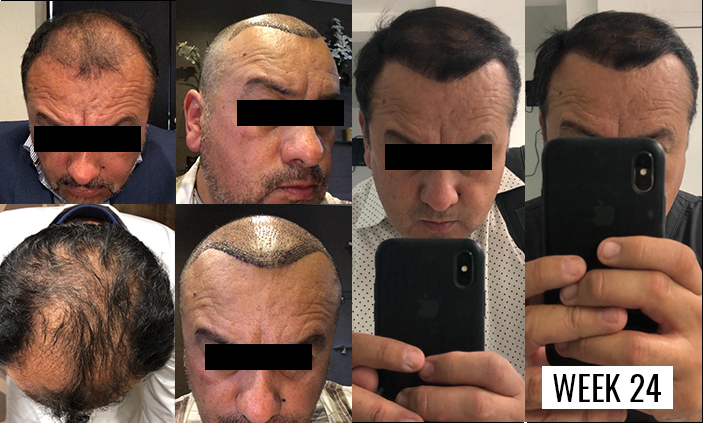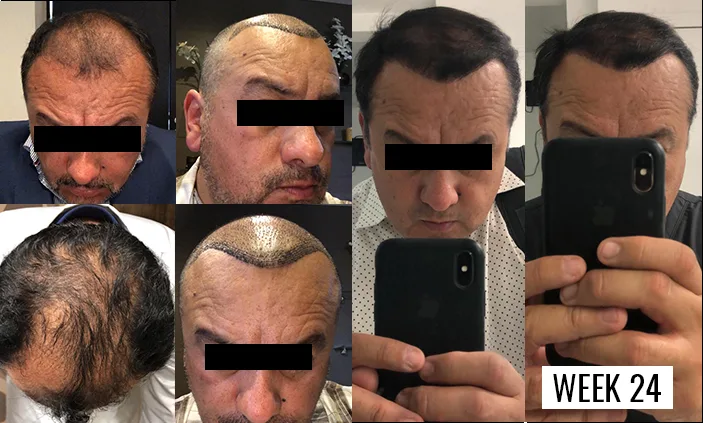 FUE HAIR
TRANSPLANT
REVIEWS
Who is eligible for FUE hair transplant?
A good candidate for fue hair transplant is someone that has a stable supply of donor hair which is suitable to cover the current and future areas of hair loss. Find out if you qualify for free, in less than 24 hrs just send us your photos and answer a few questions here.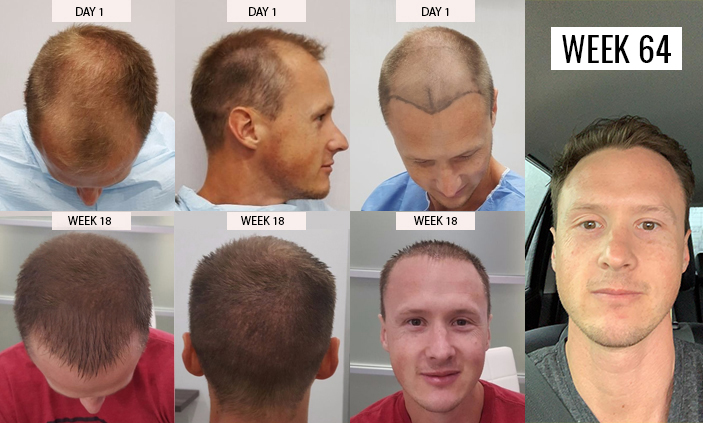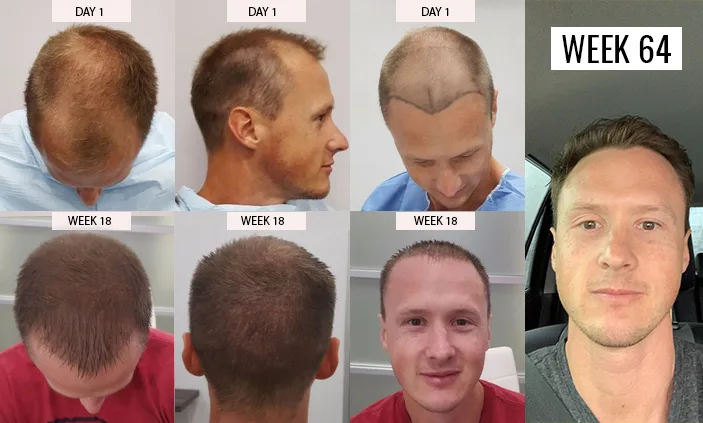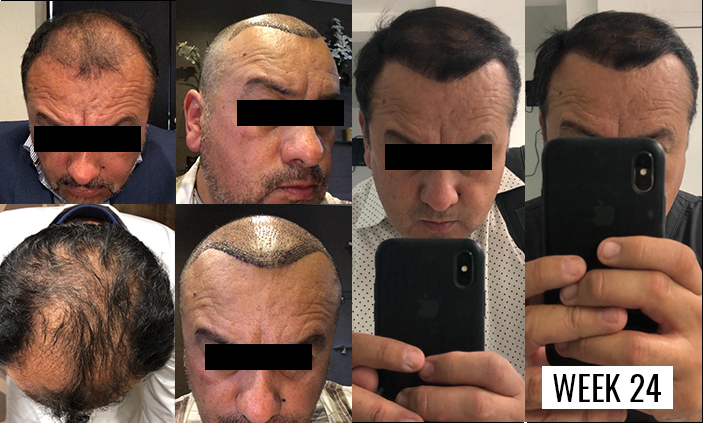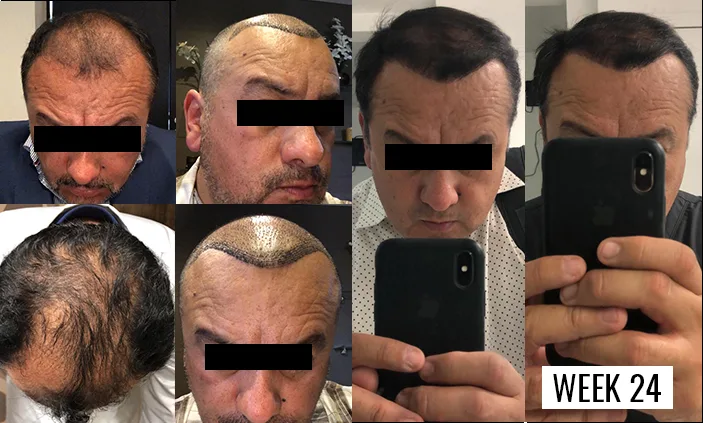 TJ HAIR CLINIC BY RUSSALD | MEDICAL FACILITIES AT TIJUANA, MEXICO
At TJ Hair Clinic we strive to offer our patients top-quality hair transplants by only using cutting edge medical technology and the best medical equipment at our newest facilities.
Step into our world-class facilities, where modernity and excellence converge to deliver exceptional FUE hair transplant procedures
At TJ Hair Clinic by Russald Medical, we understand that traveling for medical procedures can be stressful and overwhelming. That's why we are proud to be conveniently located just 30 minutes away from San Diego International Airport. Our proximity to the airport means that our patients can quickly and easily travel to our state-of-the-art facilities for their life-changing procedures.
Not only is our location convenient, but our team of board-certified bariatric surgeons and experienced medical staff are dedicated to providing the highest level of care and support for our patients. From the moment you arrive at our facilities, you can expect personalized attention and a comfortable, welcoming environment.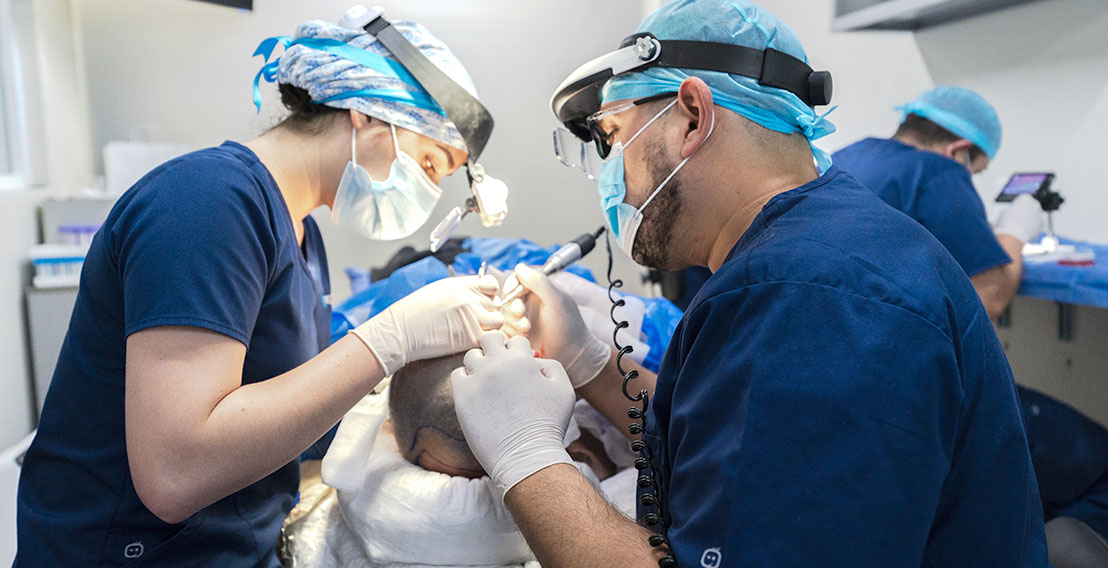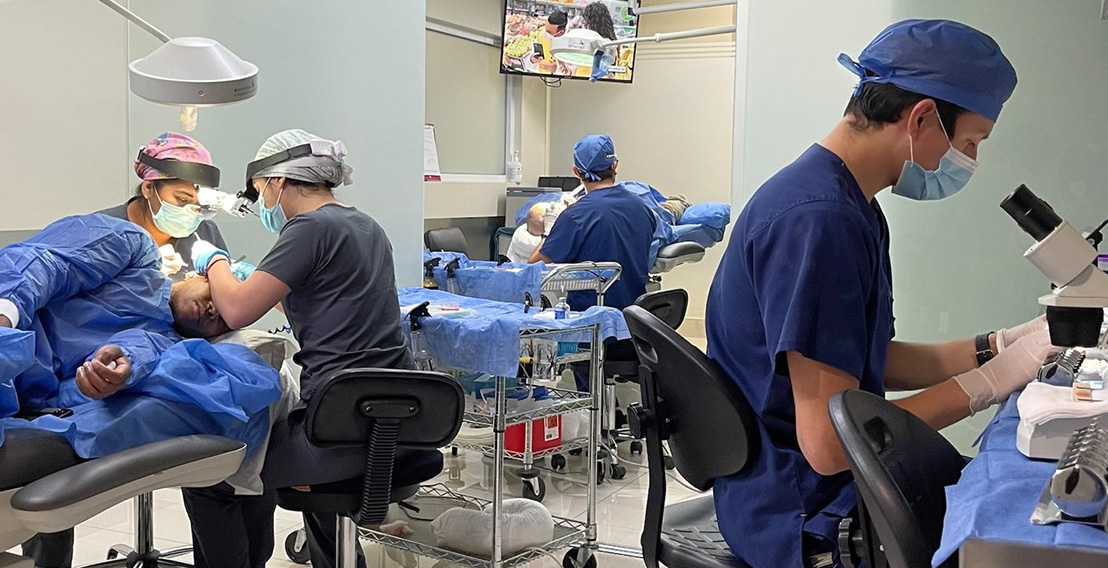 TJ HAIR CLINIC BY RUSSALD | MEDICAL FACILITIES
AT TIJUANA, MEXICO
At TJ Hair Clinic we strive to offer our patients top-quality hair transplants by only using cutting edge medical technology and the best medical equipment at our newest facilities.
NO SURGERY
NO MARKS
IMMEDIATE RESULTS!
PRP Hair Loss Therapy in Mexico
What is PRP for hair loss?
Platelet-Rich Plasma therapy for hair loss treatment is a non-surgical procedure that involves withdrawing a patient's own blood and processing it so that only the enriched cells remain. These cells contain essential proteins that help stimulate natural hair growth and can be injected into the scalp.
Does PRP injection therapy for hair loss hurt?
PRP therapy for hair loss can make our patients feel a little uncomfortable and in some cases they feel a bit of pain. This is related to the type of anesthesia they want to use in their procedure. For more information, you can contact our medical team for free. Just send us a picture and answer a few questions, here.
FUE Hair Transplant in Mexico
Does FUE hair transplant work?
FUE hair transplant works immediately after the procedure is finished. You walk in and out of our clinic feeling and seeing the results immediately, and in the coming months the transplanted hairs begin to go through a natural cycle of falling out and then regrowing. You can chose to undergo further treatments if you'd like thicker hair. After about 6 months, your final results become evident. Your transplanted hair will last as long as it would have at its donor site.
How much time off from work do I need for having FUE Hair transplant in Mexico?
We recommend taking at least one full day off because treatment can take a few hours, depending on the quantity of hair needed. After the procedure is done, there might be some minor discomfort which is treated with light pain relievers and a bandage on your scalp. We recommend our patients to consider the days off by the type of work they have, some patients are able to return to work immediately on the next day. Find out the exact time off by sending us your details here.
What is the average cost of FUE hair transplant in Mexico?
The cost varies depending on how large is the area that needs covering. Our prices are the most affordable in Mexico and the world and we do not sacrifice the quality of the procedure. Find out how much it would cost you to have FUE hair transplant in Mexico here.
At TJ Hair Clinic by Russald our FUE Technique for hair transplant works both in men and women and can be used in other areas of the body. Our patients come from all over the world and enjoy a minimally invasive procedure, pain free, with no adverse reaction to anesthesia and a minimal recovery process.
Chris is a patient visiting from Anaheim, who knows and understand the mentality a lot of patients have when it comes to visiting Tijuana for a medical procedure. He previously worked in Tijuana and trusted he would be in good hands for his transplant procedure. In addition, he wants people to know that crossing the border doesn't mean losing quality.
"They are a clinic of professional surgeons that offers a quality procedure with minimal pain at a more affordable price". Chris urges other possible patients to compare the price between a clinic in the United States and Tijuana. "In addition, they will give you the best patient treatment answering all your questions at any time of the day and they make sure you understand the procedure and future results".
TJ Hair Clinic is family!
Dr. Scott Musinsky is a US doctor and gynecologist, that became a TJ Hair Clinic's patient. He found our website after a hair transplant conference and thanks to our treatments reviews, decided to visit our clinic for an PRP therapy and left extremely pleased with our minimally invasive treatment and the attention he received from our medical staff.
DRIVING TO
TJ HAIR CLINIC
If you are driving to Tijuana, check out our video that will guide you step by step on how to get to the clinic. In case of doubts during your drive, please call us at:
Russald Medical S.A. de C.V.
"Plaza Agua Caliente" or "Torres de Tijuana"
Boulevard Agua Caliente 4558, CM3-1, Colonia Aviación 22014,
Tijuana, Baja California.
MEX: +52 (664) 906-92-68
US:+1 (800) 404-2851